All my courses have been peer reviewed and accredited by the Geological Society of London.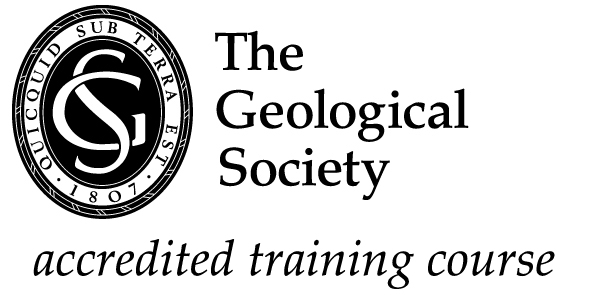 I offer customisable courses in the following topics:
Basic Wellsite and Operations Geology
Advanced Wellsite and Operations Geology
Formation Pressure and Wellbore Stability Evaluation
Advanced Formation Pressure Evaluation/HTHP
HTHP wells and the geologist
All my material is constantly under review and is updated as new techniques or information becomes available. All the material is in a modular format which allows me to create bespoke courses exactly to client requirements. The course notes and presentations can be easily modified so that client particular work flows and processes are described instead of just generic 'oil industry' ones. These courses can either be set up in-house at client location or run as an external course. Click below to view a list of all my modules which can all be modified or added to at client request.

Please note that the manuals I provide are written in Word as full reference documents and are not just the PowerPoint slide notes. This allows the course attendees to more effectively review the detailed content at a later date.

Don't hesitate to contact me if you want to discuss your specific training requirements. In house training can be performed more cost effectively than sending several individuals to training providers. For more information see my training brochure.

Main Contact

tim@timherrett.co.uk

Another good alternative would be to use the facilities of my training provider partners but the content of these open courses is pretty fixed.

During the Coronavirus Pandemic face to face training, which I prefer, has been restricted. It is impossible to present my main courses in full on-line as they are too long, but I am willing to present some parts of them on-line, on request. Contact me for more details.

I have been involved in training in one form or another for over thirty years. Early in my career I was responsible for on-site training of new mudloggers and, later, after becoming a wellsite geologist I have trained many oil company personnel - especially for Mobil and Conoco.

It was a logical progression, then, for me to write manuals and training courses focused on wellsite and operations geology plus formation pressure evaluation based on my practical experience of the subjects.

From 1996 to 2000, while I was training manager at Cambrian Consultants, I developed a series of courses which were presented to oil industry personnel at the Cambrian offices or as bespoke training in individual oil company offices.

It was also at this time that I started lecturing on wellsite/operations geology on the MSc course in Petroleum Geoscience at Oxford Brookes University. The course was subsequently merged with and moved to the University of Manchester where I have continued to lecture. I am also an associate lecturer at the University of Derby where I teach on their MSc in Petroleum Geoscience. See the link on the left.

Since becoming independent in 2000 I have continued to write and present courses to the industry either directly or through my training provider partners worldwide. The courses have increased in scope and matured in this time and are now always well received by my course attendees.

I applied for and, after peer review, received accreditation for my courses by the Geological Society in 2017.